Linda Meyer Pottery.......Add richness from the earth to your daily life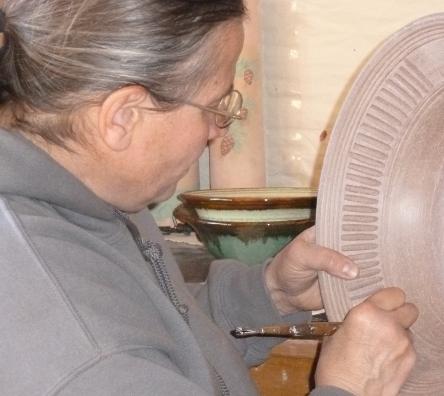 My pottery is intended to be used. It is microwave, oven and dishwasher safe. Great care and attention has been given to all of my work to achieve good balance and practical applications.
My Work
All my work is created in stoneware. I specialize in wheel-thrown/hand-built functional pottery. It is durable enough for daily use yet adds charm and grace for special occasions.
Each piece is carefully designed through many steps during its creation. All glazes are mixed by hand using various earthly components.
Participating in art shows and festivals, I meet the public face to face and is a joyous way to promote my work. A current listing of these events is always listed below.
Retail outlets are also listed below.

You can purchase work at my studio by appointment.

Retail Locations:
ArtForms Main Street Hill City, SD
Prairie Edge 606 Main St Rapid City, SD (buffalo design items only)
Ft Hays Gift Shop 2255 Fort Hays Dr (S hwy 16) Rapid City, SD

South Dakota Art Museum SDSU Campus Brookings, SD

Upcoming Shows 2018 (some shows are still judging and I will post results ASAP)

Sidewalk Arts Festival
Sioux Falls September 8th, 2018
9 am to 5 pm Booth #229

First Lady's Prairie Art Showcase
Pierre, SD October
Custer State Park Buffalo Round Up
Late September

Pinedale Bazaar
Pinedale Elementary School, Rapid City, SD
Saturday November 3rd



Linda Meyer 22304 Rusty J Ln, Lead, SD 57754 | (605) 584-0074